No in person Services until further notice. We will re-evaluate the situation and Diocese guidelines, which change often and will keep you informed. We plan to continue live streaming Morning Prayer on our FaceBook page.
All Diocese Online Worship: We will continue to join together as a diocese for the duration of our Safer at Home order, and we invite you to join us each Sunday morning at 10am. All of our all diocesan liturgies feature officiants, preachers, readers, and musicians from throughout the diocese.
This week our presider will be the Rev. Jason Lavann and our preacher will be the Rev. Gary Manning. Our musicians will be from All Saints', Milwaukee.

About the Rev. Gary Manning
Gary Manning has been on the journey of faith with the people of Trinity, Wauwatosa for nearly 16 years. Gary is a former Pentecostal who became an Episcopalian as a result of a co-worker inviting him to the local Episcopal Church for the 11:00 p.m. liturgy on Christmas Eve (Episcopalians, take this hint!). He grew up in Richmond, Virginia, so that accounts for the fact he talks funny. And, even though he has not lost his Southern drawl, he has thoroughly embraced being an adopted Wisconsinite. When he's not at church or enjoying time with his family, Gary is probably on his bicycle, out for a run, or enjoying the high and lonesome sounds of bluegrass music. He continues to dream of the day when he will be able to play (albeit poorly) more than three or four tunes on his banjo.

We have made a service bulletin for you to follow along at home. Here is the link to the bulletin: Bulletin for October 25, 2020

On Sunday morning, click here to view our service via YouTube: https://youtu.be/3eG24axeL9A

Or you can watch the livestream on our Facebook page: https://www.facebook.com/DioceseOfMilwaukee/

We look forward to coming together as a diocese to worship and pray with you and celebrate this Season after Pentecost. Share these links widely.

All the information posted here can be found on our website.
Twenty-first Sunday after Pentecost Online Common Liturgy | October 25 at 10 am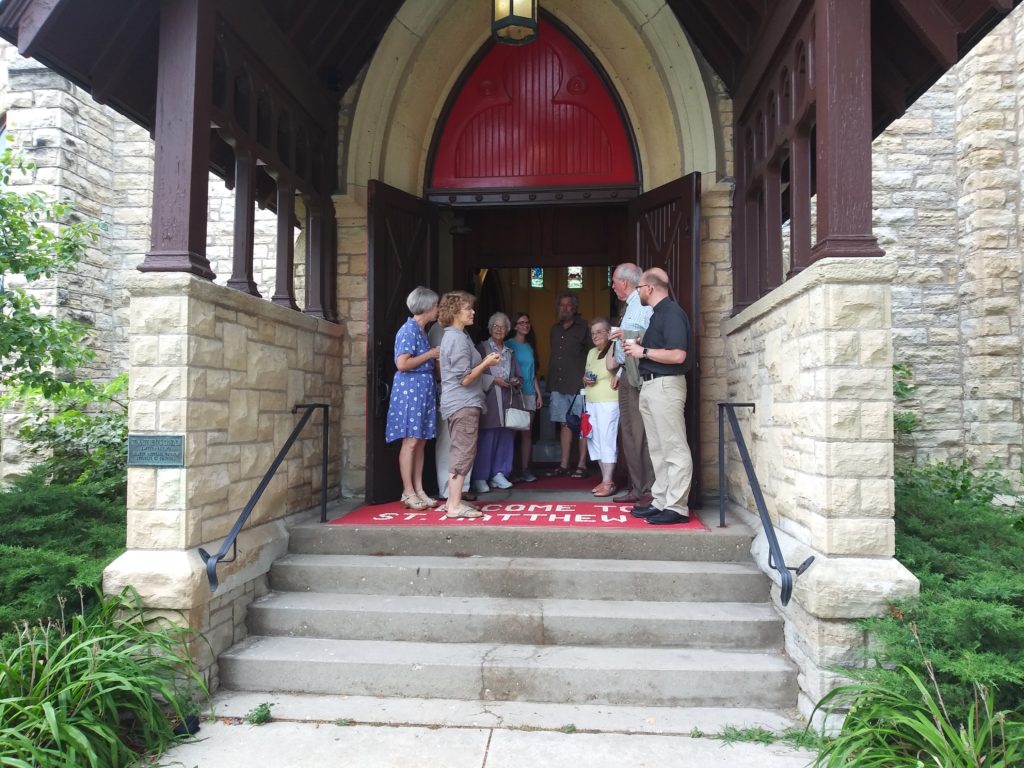 ST. MATTHEW'S INVITES YOU TO COME WORSHIP WITH US

Saturday Service |
5:00PM
Sunday Services
September – May 7:30AM & 10:30AM Holy Eucharist – Traditional Language
June – August 7:30AM & 10:00AM Holy Eucharist – Contemporary Language
Wednesday Service
Noonday Service @ 12:00PM Noonday Prayer (with Eucharist)
St. Matthew's Episcopal Church
5900 7th Avenue, Kenosha, WI 53140
Phone: (262) 654-8642 Fax: (262) 605-5526
Email: stmatts5900@gmail.com
Visit our Parish Calendar | Follow us on Facebook!
Office Hours
Monday-Thursday 9am – 3pm & Friday 9am – 12pm
Come and seek God's promise at St. Matthew's Church

The members of St. Matthew's Church extend an open invitation

and warm

welcome to seek and find the love of Jesus Christ.

we would love to walk our Christian journey with you.
We believe St. Matthew's is a place for you to grow and develop in your faith.
Please, consider welcoming us into your journey.