No in person Services until further notice. We will re-evaluate the situation and Diocese guidelines, which change often and will keep you informed. We plan to continue live streaming Morning Prayer on our FaceBook page.
All Diocese Online Worship: We will continue to join together as a diocese for the duration of our Safer at Home order, and we invite you to join us each Sunday morning at 10am. All of our all diocesan liturgies feature officiants, preachers, readers, and musicians from throughout the diocese.
NINTH SUNDAY AFTER PENTECOST ONLINE COMMON LITURGY AUGUST 2 @ 10AM
This week our presider will be the Rev. David Simmons and our preacher will be the Rev. Joel Prather. Our music will be from St. Matthias, Waukesha.
About the Rev. Joel PratherFather Joel Prather read St. John's Gospel at the age of 19 for the first time and was utterly amazed at what Jesus said and did. That amazement continues to this day. He has served as rector in the Diocese of Milwaukee since 2014, first at Christ Church, Delavan and now at St. Bartholomew's, Pewaukee. Prior to being called to the great state of Wisconsin, he and his wife, Tammy, were church-planters in the Diocese of Dallas. Fr. Joel is the Vice President of the Executive Council and serves on the Commission on Mission & Development. He and his family love to travel and are always seeking out great local bakeries and coffee shops. Father Joel enjoys reading monastic literature, listening to heavy metal, and can always be found with a cup of coffee nearby.
We have made a service bulletin for you to follow along at home. Here is the link to the bulletin: Bulletin for Sunday, August 2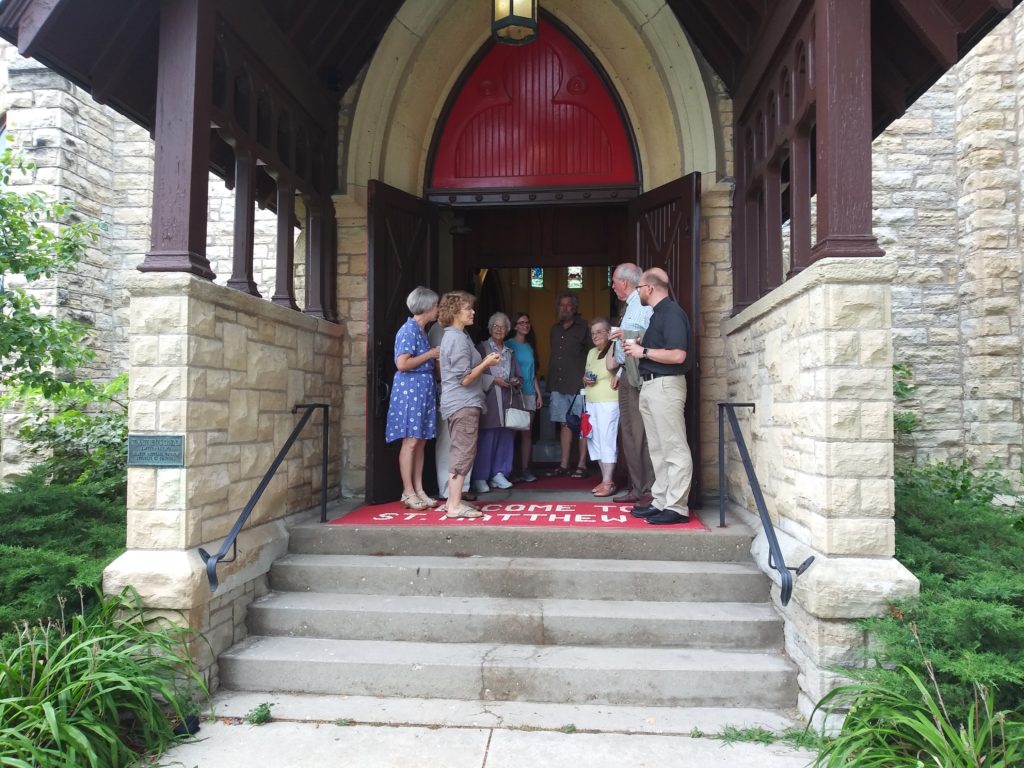 ST. MATTHEW'S INVITES YOU TO COME WORSHIP WITH US

Saturday Service |
5:00PM
Sunday Services
September – May 7:30AM & 10:30AM Holy Eucharist – Traditional Language
June – August 7:30AM & 10:00AM Holy Eucharist – Contemporary Language
Wednesday Service
Noonday Service @ 12:00PM Noonday Prayer (with Eucharist)
St. Matthew's Episcopal Church
5900 7th Avenue, Kenosha, WI 53140
Phone: (262) 654-8642 Fax: (262) 605-5526
Email: stmatts5900@gmail.com
Visit our Parish Calendar | Follow us on Facebook!
Office Hours
Monday-Thursday 9am – 3pm & Friday 9am – 12pm
Come and seek God's promise at St. Matthew's Church

The members of St. Matthew's Church extend an open invitation

and warm

welcome to seek and find the love of Jesus Christ.

we would love to walk our Christian journey with you.
We believe St. Matthew's is a place for you to grow and develop in your faith.
Please, consider welcoming us into your journey.