Welcome to St. Matthew's Episcopal Church!
St. Matthew's, an historic church rooted in the Episcopal tradition, shares the love of Christ, putting faith into action through worship, prayer and outreach in the downtown community and beyond.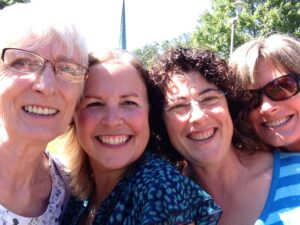 Come Worship With Us!
 Sundays: Worship & Holy Eucharist
     September – May   7:30 a.m. and 10:30 a.m.
     June – August        7:30 a.m. and 10:00 a.m.
Wednesdays: Holy Eucharist & Healing   9:00 a.m.
Sunday School for ages K4-6th grade at 10:00 a.m. on 1st and 3rd Sundays (September through April).  (See calendar for more details.)
2015 Lent and Easter schedule:
Ash Wednesday (February 18):  9am and 7pm (Ashes "to-go" outside the church from 10am-2pm)
Maundy Thursday (April 2): 7pm
Good Friday (April 3): noon-1pm
Easter Vigil (Saturday, April 4): 7pm
Easter Day (Sunday, April 5): 7:30am and 10:30am
Women — Join us for our Lenten Women's Day on March 14, 2015.  
Visit the Women's Day page under the "Parish Calendar" tab
for details and a registration form.
"Now you, my friends, are children of the promise…"  (Galatians 4:28)
Come and seek God's promise at St. Matthew's Church.

The people of St. Matthew's Church extend an open invitation 
and warm 
welcome to seek and find the love of Jesus Christ.
Jesus is the living God, 
dwelling with us through our worship, fellowship,
and the mission of the church.
Through the Sacrament of Holy Baptism
we share in Christ's victory over sin and 
death and are made as Christ's own forever. 
We are his body in the world 
and we 
would love to walk our Christian journey with you. 
We believe you may find St. 
Matthew's is a place for you to grow and develop in your faith.  Please, consider 
welcoming us into your journey.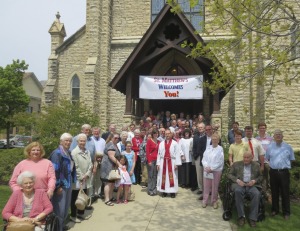 St. Matthew's Episcopal Church is located at:
5900 7th Avenue,  Kenosha, WI 53140
Phone: (262) 654-8642
Fax: (262) 605-5526
Email: stmatts5900@gmail.com
Office Hours:
Monday-Friday 9:00 a.m.-3:00 p.m.